The songs included on the album "glisten" were a project of Mike's about five years in the making.
Glisten song list
Glisten 2. Free 3. Ohio Song 4. Say 5. Up To Fall 6. Girlfriend 7. Everything 8. In A Car 9. Starfish Song 10. Awake All Night 11. Yesterday's Isn't 12. Lifeboat 13. King 14. Shining Light 15. Heaven 16. Digging Down 17. Cloud Song 18. One Way Street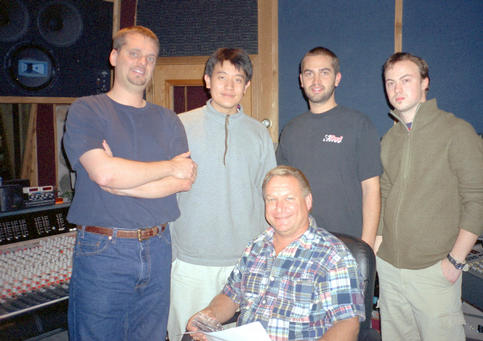 After the end of tracking, MVP pauses with Peter Hopper of Masterview Studios.
Comments:
"I love the moment in the "Starfish Song, when the whole band kicks in after the intro."
Mike and Greg tracking "One Way Street"
MVP would like to thank K-Rock for playing "Everything" on "Backstage Live".